Advanced Live Satellite Interface
Powerful but intuitive interface for devices big and small
  Internet delivered two-way monitoring and control
  Suite of web-applications for complete visibility
  Advanced analytics capabilities for business needs
Rich. Responsive. Personalized.
Enjoy the window-based interface which combines the flexibility, responsiveness, and ease of use. Get the tools or information you need – equally conveniently on your desktop computer and mobile devices.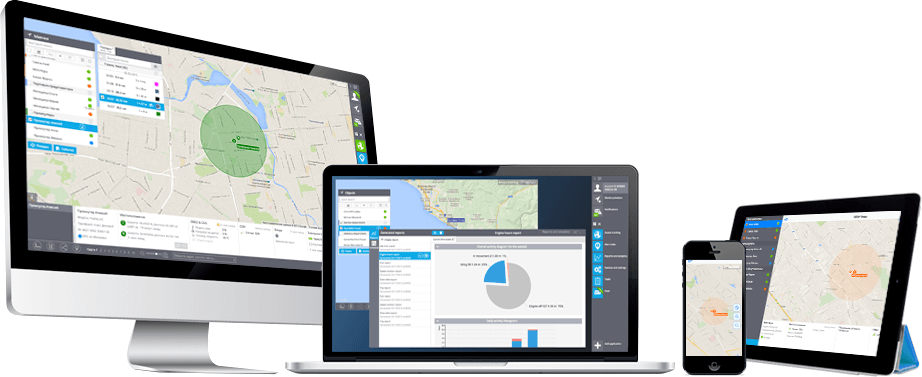 Cross-browser. No plugins.
Our rich web-based tracking portal delivers features and functions normally associated with desktop applications. It runs inside any modern web-browser and does not require any software installation, plugins, or Java. It's all based on pure Javascript and HTML5 technologies only.
Focused data. In windows.
One-app-per-goal philosophy brings all useful information and right tools directly to user, eliminating unnecessary navigations. Open the apps you need, customize the layout and change view settings for a richer experience and optimized workflow.
Small screens. Big deals.
Although we offer feature-rich apps for Android and iOS smartphones and tablets, users can also login the optimized
web interface
from any mobile browser. It is lightweight and brings all the vital information fast, whenever and wherever it is required.
Real-Time
Convert data into key insights and drive intelligent business decisions.
Connect assets, maps, data, and people in real-time to make smarter, faster decisions and improve safety.
Benefit from a suite of

maps

for the whole our world, built from the best data available from communities and professional services, presented in multiple cartographic styles.
Enrich visibility by blending together wide range of tools and databases for directions, Geo-coding, traffic, GSM/Wi-Fi locations and many other geo-spatial resources.
Take knowledge of 'in the moment' assets activity to accurately target goals and issues and deliver relevant information to all business departments in your organization.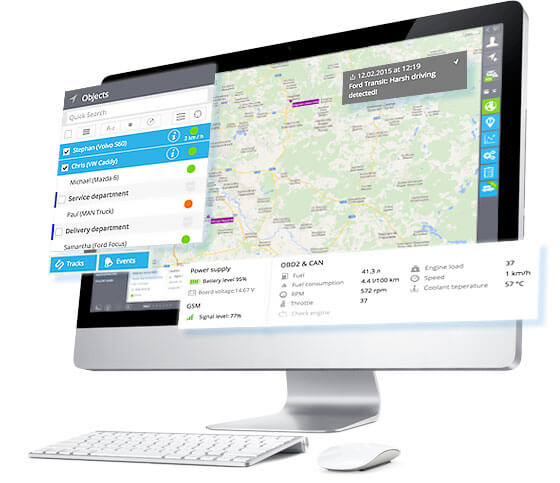 History
Tracks, Events and our incredible Time Machine.
Now anyone can get the insight into history, fast and detailed. Where the assets moved, when and how they did it – Lions Auto delivers direct access to answers for everyone.
By maintaining a detailed history of every trip for up to several years, Lions Auto uncovers all information relative to movements and events with an exclusive interface, fast and easy.
A quick assessment of any data from the past is possible through tracks list, various map views and events filtering. By zooming it from simplified view to closer scales a viewer can get data-rich access, compare and process more data without complexity.
Time Machine is one of the most remarkable features that our tracking platform has. It enables users to roll back in time and playback former movements and events as if they were passing through the time.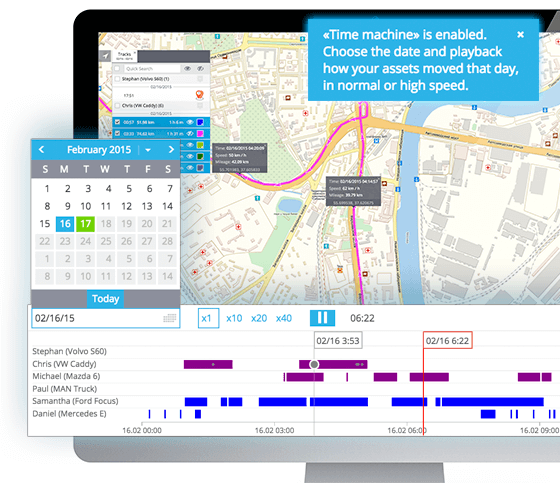 Widgets
Create dashboard that allows to explore and understand the rich Telemetry Data.
Browse a collection of dynamic and interactive widgets that can be configured to maintain situational awareness on all aspects and current events.
Manage fusion of information from all possible sources by combining widgets that are only useful for your intelligence, tasks and workflows.
Benefit from the visualization that brings together text, values, icons and control elements within the context of available hardware features.
Get knowledge of up-to-date information from all possible sources without risk of overloading. Stay connected with your devices and easily switch peripheral equipment through interactive control elements.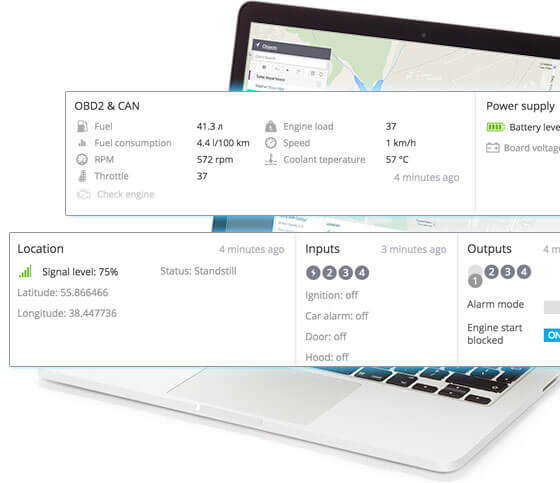 Events
Persistent awareness of what's going on.
Wherever you are, you will be instantly alerted to important or disruptive activities.
Easily add and manage event rules using intuitive wizard tool that guides you through selecting event type, choosing affected assets, setting Geo-fence and time restrictions, and event specific parameters.
Get real-time notifications to know what's happening, the moment it happens. Choose to receive alerts via SMS, Email, push notification or automatic phone call. The message contains all relative information including the map link where it happened.
Unlike many traditional systems that can only alert user in an alarm events generated by devices, Lions Auto lets you know what's happening with dozens of server-side monitored events, such as jamming detection, long idling or sensor value range exceeding.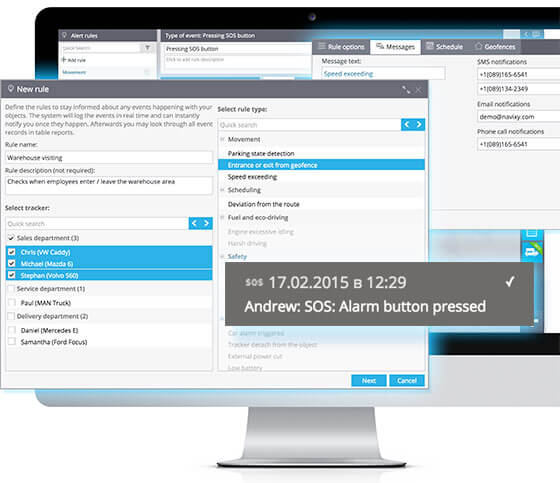 Reports
Gain complete visibility of business effectiveness and costs.
Dynamic reports provides a current, comprehensive view of all business activities, fleet usage and mobile workforce effectiveness.
Retrieve detailed and summary reports about trips, visits, fleet and mobile workforce activity, fuel monitoring, driving quality, safety and others to help craft more effective business.
Get an easy, accurate read of everything going on from different perspectives. Use interactive tables and graphs, export results as Excel and PDF files or get them emailed to your inbox on a regular basis.
See detailed information about every business asset, compare teams and groups of vehicles, or get summary efficiency overview to grow successfully.
Analyze big data across multiple assets being confident the report will be delivered shortly – thanks to optimized algorithms, distributed computing, data caching and background preprocessing.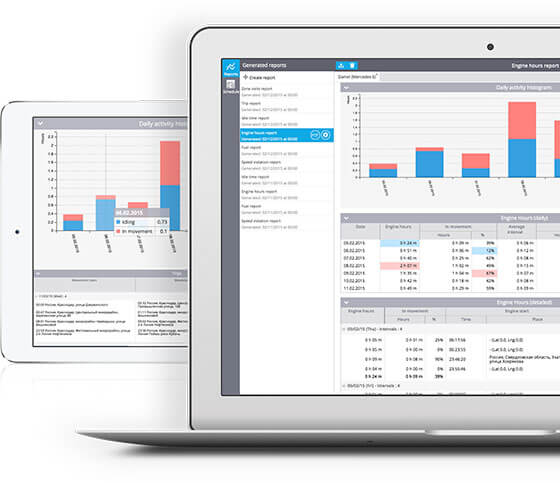 Devices
Powerful and streamlined control over devices.
Lions Auto offers device management capabilities as a more comprehensive and easy solution. Our tracking platform is a Multi-Device running portal. This means we can seamlessly integrate  and run tracking devices installed by other tracking companies. This offers our customers improved customer service, upgraded platform capabilities and functions as well as new features for improved business efficiency and ROI.
Free your fleet managers from the hassle of changing settings with cables and drivers from their locations. They can abstract from boring commands and make all necessary settings remotely and flexible with easy-to-use interactive widgets.
Over-the-air (OTA) technology is effectively implemented in GPRS/IP commands stack to the max – individually for each device model. It slashes service and communication costs, and allows configure devices even they went temporarily offline.
Business customers with big fleets and large number of employees can automate setup and configuration by applying chosen settings to multiple devices.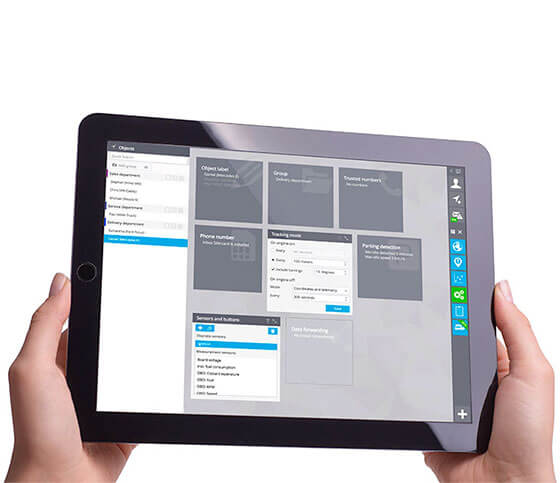 Sensors
Setup and configure connected sensors at the new level of convenience.
Lions Auto maximizes telemetry opportunities and minimizes integration groove. With easy setup and configuration there is simple no space for occasional errors and time-wasting routines.
Add wide range of sensors related to vehicle telemetry and security
Configure sensor parameters responsible for data pre-processing
Upload large calibration tables in multiple file formats
Use formulas and combination of sensors for precise measurements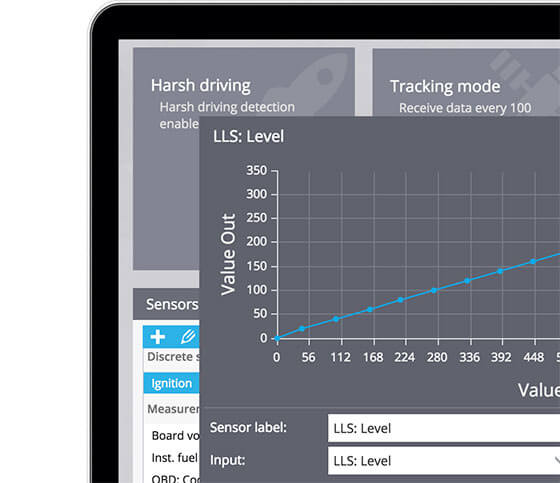 Preferences
Change the way your interface looks and behaves to suit your needs.
User preferences allow you to customize the behavior and appearance of the Web-interface to better match your region settings and preferred appearance.
Access the best available Geo-Spatial sources for address search, Geo-Coding, routing/navigation, LBS and more.
Apply regional settings such as language and time zone. More languages and currencies can be added upon request.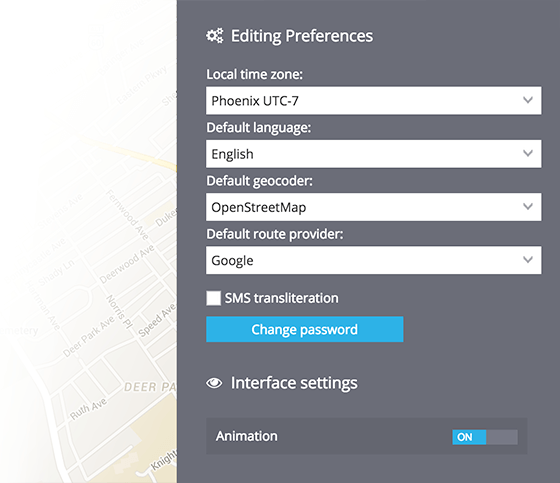 Efficiency
Offer sophisticated Apps for Your customers
Give transport/fleet managers the exact functionality they need with industry-specific apps. Take advantage of focused solutions to empower your business with a user experience designed for different needs and skill levels. Get more profit from providing efficiency service in service provision for your valuable customers.
Tasks
Transparency in Mobile Workforce Management
Tasks app lets users to manage their mobile workforce in the most efficient way. It is based on GPS location of the employees and Tasks, assigned to them.
Create tasks quickly on the map or on the timeline. Make tasks copies and schedule repeated tasks. Import tasks from ERP and CRM systems with API and file uploading tool.
Assign tasks to employees, set due dates and times, set possible delay and minimum duration to figure out your current level of customer service.
View tasks by selected date range, by status, by employee or by tags.
Use analytic reports to see how your employees success. Compare individual workers and teams. See how your efforts increase an overall productivity from month to month.
Fleet
Improving productivity and safety
Fleet is one of the built-in apps for fleet operators. This app is continually upgraded and contains a big range of tools for improving fleet productivity and safety.
Internal database keeps everything about vehicles and drivers. It collects all technical and routine data about the usage, maintenance and accidents, which it receives from our tracking devices or manually by drivers or fleet managers.
Analyze the fuel spend patterns for each driver, accurately calculate costs and improve fuel economy.
Maintenance and repair diagnostics is sent directly from vehicle and helps to predict failures and decrease downtime. Fleet operators receive 'Engine check' warnings, read DTC error codes* remotely and can schedule regular maintenance activities based on vehicle usage statistics.
Empower drivers to adopt a better driving style and decrease accident rates with individual monitoring of driving behavior. See how it affects on costs related to vehicle repair and fuel consumption.
Use authorization verification of the drivers for anti-theft and accurate reckoning of the salaries and personal productivity.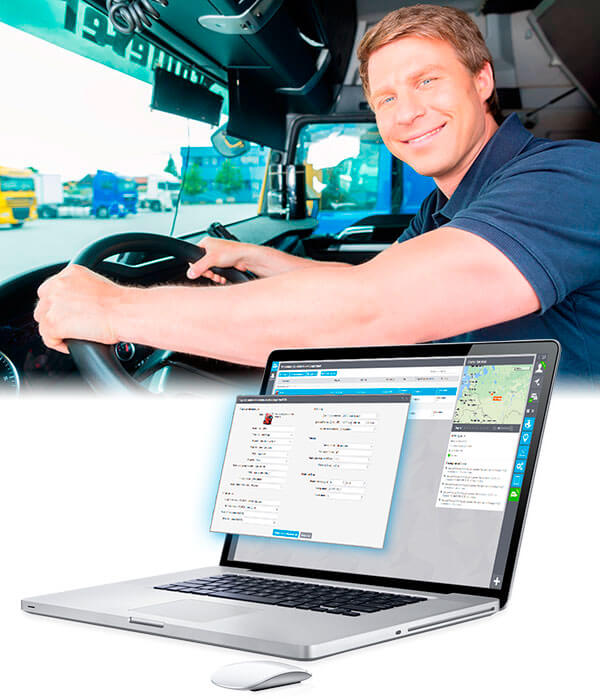 EXPLORE OUR ADVANCED VEHICLE TRACKING SOLUTIONS AND EXPERTISE 
Innovative all-in-one GPS tracking platform with proven solutions based on market and industry needs.
Superior visibility

Real-time GPS and LBS survey, events control with instant notifications and deep history insight with the incredible TimeMachine feature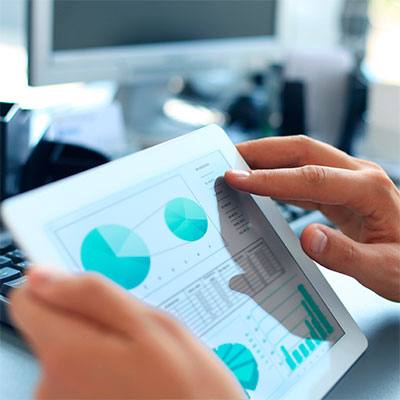 Powerful analytics

All-round and comprehensive reports to achieve operational excellence and cost-effectiveness in asset-intensive industries
Sophisticated applications
Leverage our industry-specific apps "Tasks" and "Fleet" to give fleet managers access to the best practices and exact functionality they need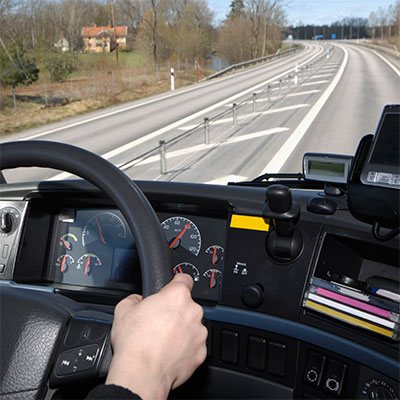 Advanced connectivity

Upgrade devices to plug-and-play and reduce maintenance costs thanks to automatic configuration routines and sustainable device connectivity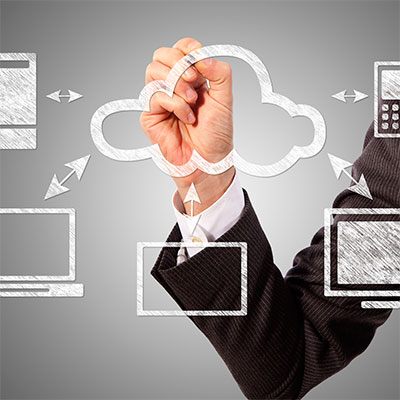 READY FOR THE MOST INNOVATIVE GPS TRACKING SOFTWARE?
Explore our products using demo access, talk to us.
TRY our tracking platform for FREE
Sign up and get your own vehicle tracking account instantly! A full-featured trial version will be available and you'll be personally guided by one of our support executive.